Creating a harmony between who you are ... and what you have around you... with color ...that's using your color edge
Suzanne Caygill
(1911 – 1994)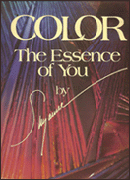 In 1942, Suzanne Caygill, a noted California fashion designer and milliner, had a revelation:



"Human beings, the highest order of nature, carry information about their personality and style in their own natural coloration -- the pigments in their skin, hair and eyes -- and these colors are related to the color harmonies in nature."



Suzanne developed her theory of personality and style around each season:

Spring Summer Autumn Winter

While each person's color palette is unique, Suzanne found recurring patterns of personality and style based upon the QUALITY of the color. She said that colors that emerge for Spring personalities are "clear," Summer colors are "muted," Autumn colors are "somber" and Winter colors are "greyed."

Suzanne postulated that there are 64 different personality types across the Four Seasons, and selected names to help clients understand their relationship to nature. For example, Spring types include Early Spring, Golden Spring, Water Lily Spring, Apple Blossom Spring, Vital Spring and many others. While two Vital Springs would have similarity in style, energy, and personality characteristics -- their colors could be very different, depending on individual pigmentation.

Less complex color systems began to emerge in the 1970s, first with Carole Jackson's book "Color Me Beautiful," which ignited the popularity of the color analysis business. However, these 4-part color systems cannot and do not address the uniqueness of each individual as does Suzanne's system.

Over the years, Suzanne developed many formal courses of study for her clients covering topics from wardrobe design to presentation style. Noted for her skill in fashion design for the individual, Suzanne's highly touted Salon of Color in San Francisco and her many fashion shows in Beverly Hills were part of the excitement she brought to her clients.

In the late 1970's Suzanne developed and began teaching her intense, 8-week Academy of Color for select students, enabling them to develop accurate and beautiful color palettes for clients. She trained and certified fewer than 40 graduates over the next 15 years.

In 1980, she published Color, the Essence of You, providing visual education in color, matching pictures of her clients to flowers and scenes in nature. Her book is packed with information about color, personality focal points, and how to express personal style in decorating.

Suzanne left an ever-growing legacy that touches and inspires beauty in the lives of thousands of people, and generations of families.

Suzanne's archives are housed with Cornell University. If you would like to send your own "Suzanne Story" to us to add to her history, please e-mail us at suzanne@rochelehirsch.com.